---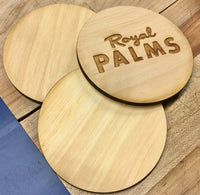 Custom Jumbo Game Pieces and Sets
Create your own jumbo game board pieces or order replacement pieces with your logo. Giant backyard games are fun, and even better when they're personalized. Give your oversized board games a unique, natural look with custom etched pieces.
Laser engraved wooden game pieces come in a variety of shapes including circular discs for four-in-a-row kind of games or checkers, block-style pieces for stacking games, and more! Please contact us for further information.
Small: 3 inch wide or smaller
Medium: 6 inch wide or smaller
Large: 10 inch wide or smaller
For custom shapes, sizes and materials please contact us!